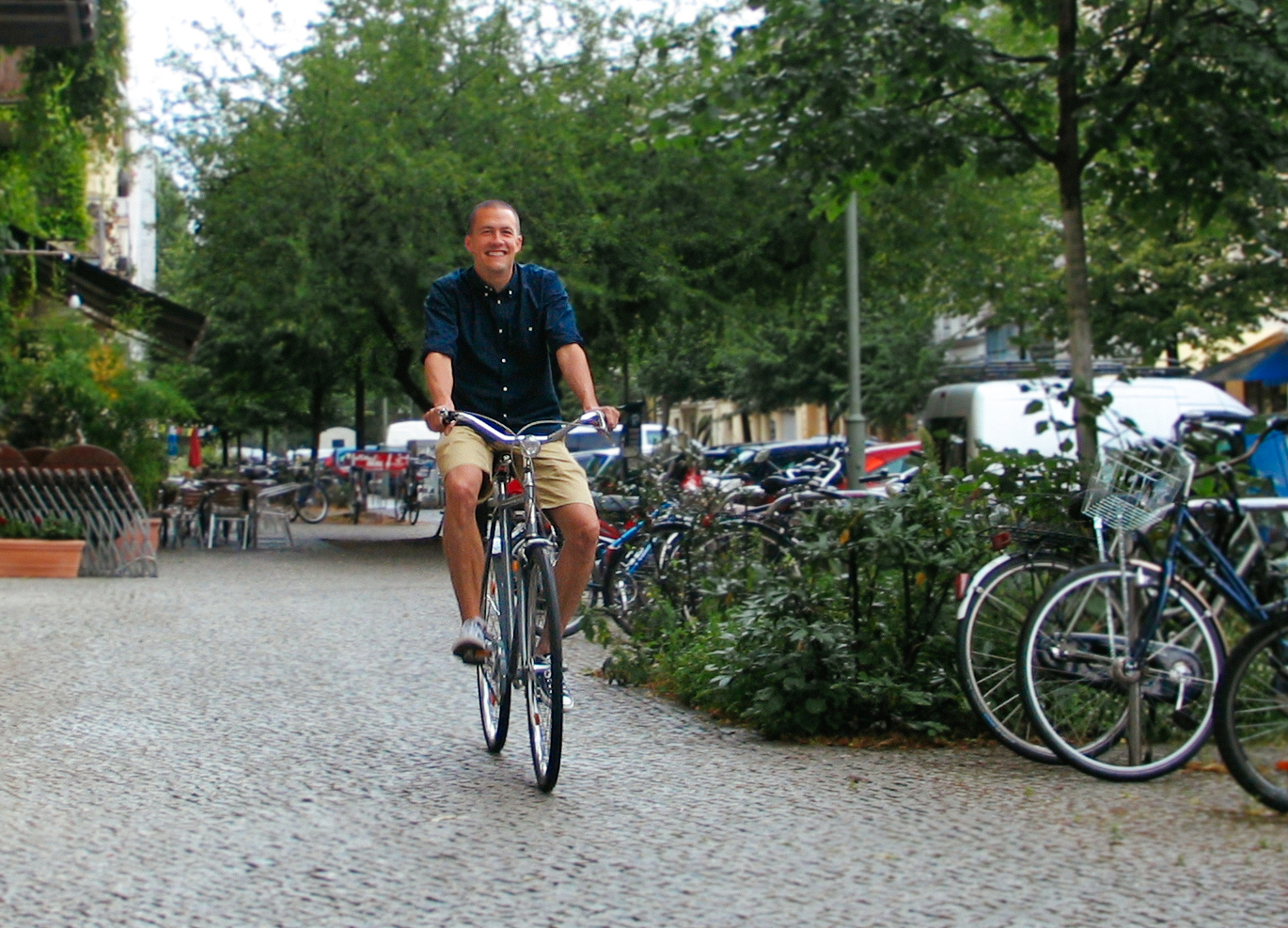 Star barista enjoys biking holiday with upperbike's individual rentals
Rasmus Gamrath, manager of coffee shop Coffee Collective in Torvehallerne, Copenhagen, won the Danish Barista Championship in 2013.
A connoisseur and expert of all that roasted beans entails, he and girlfriend Emily are also true bike enthusiasts, a passion made possible due to their living in one of the bicycle–friendliest cities in Europe. By their own accord they use their bikes back home every day for commuting, shopping, and generally getting around.
Rasmus recently visited Berlin with Emily and they specifically wanted to hire pushbikes to explore the city, instead of being dependent on public transport during their stay.
They were going to cover a lot of ground, so were looking for individual, comfortable rides. They decided to give upperbike bikesharing a go after coming across the site online. Rasmus explained that they saw some great advantages by booking with upperbike compared to other bike rentals.
For instance, they were able to see the bikes before they hired them. Due to the ever-growing and varied upperbike community many different styles and builds are on offer at any time, and more are being added continuously. Emily especially liked the fact that she could choose a 'real, personal' bike instead of having to pick a generic city bicycle. While Rasmus was able to choose a ride from a lender who conveniently lived near their holiday apartment (same philosophy here, for a more personal experience they booked with AirBnB to stay in a private flat). upperbike lenders are registered all over the city, so wherever the couple would have stayed there is a chance a rental was available nearby. They could see their bike-'homes' on the interactive map.
A simple and fuss-free booking process ensured their bikes were reserved, and they were soon off to pick them up from the lenders at their homes. They thought that meeting Berliners in person was a nice experience, and also a great chance to exchange tips and advice on where to go and how to get there. For them, as tourists not familiar with the city, invaluable and fun information and not always found in the guides.
Their first cycling destinations led them to some of Berlin's best coffee shops and roasters, and Rasmus counts Bonanza, No Fire No Glory and Father Carpenter among his three favourite haunts.
They also left the centre and took a longer trip to Tempelhof for an event, something they would not have intended otherwise.
During their holiday the couple had time to reflect on the similarities between the two cities.
As Rasmus explained, "Copenhagen feels like a city made for cycling with its dedicated cycling paths, secure crossroads and the greater general acceptance of cycling culture by the people living there. Berlin feels like it is trying to get there, too."
Using the bike for everyday commutes, shopping and family outings is most common in Copenhagen, with cyclists being an equal part of the busy daily traffic across the city, Emily added.
The couple agreed that while Berlin's mixed city traffic of trams and streetcars certainly had its challenges, taking the cycling approach to explore and visit the countless places and corners of interest enabled them to thoroughly experience the city. They reveled in soaking up the young and vibrant atmosphere, and getting around without a timetable and at their own leisure.
From hassle-free booking to the uncomplicated return of the bikes the Danish couple were very happy about their choice of rental.
For anyone thinking of hiring a bike in Berlin for any occasion, Rasmus and Emily agreed they would recommend upperbike bikesharing heartily.